Help Topics
|
Website FAQ
|
Glossary
|
Browser Check
|
Service Status
|
Contact Us
Tabular Report
The Tabular Report system provides a broad view of PDB data and a friendly interface for users to browsing, filtering, and searching. Users can view data in predefined standard reports or create customized reports.
Standard Reports vs. Custom Reports
The tabular report system includes a list of pre-generated summary reports and links to custom reports. These reports are accessible from the Reports pulldown menu on the query results page. The pre-generated summary reports usually focus on certain aspect of the structures, such as Sequence Report, Ligands Report, Custom Report, etc.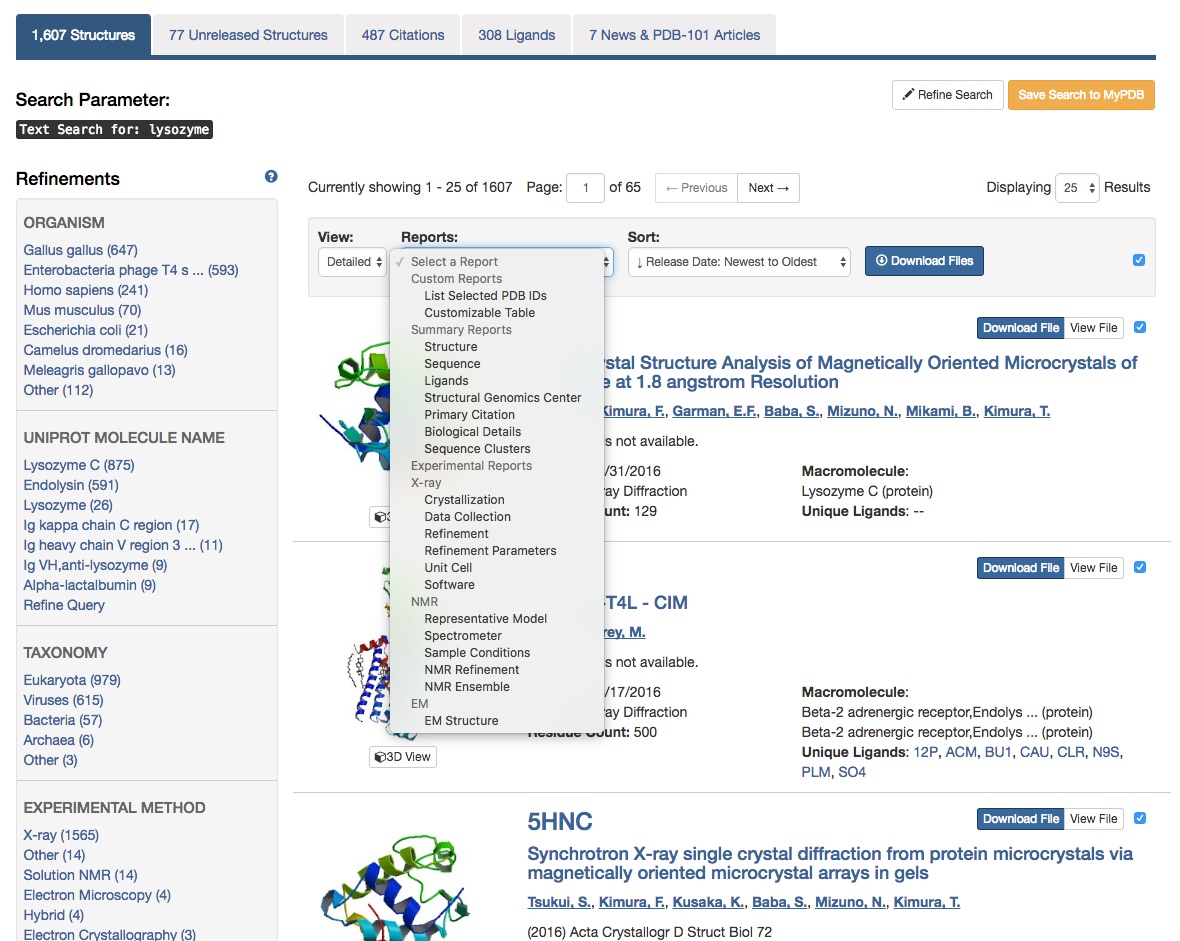 The Customizable Table option can generate a report containing data items from multiple standard reports.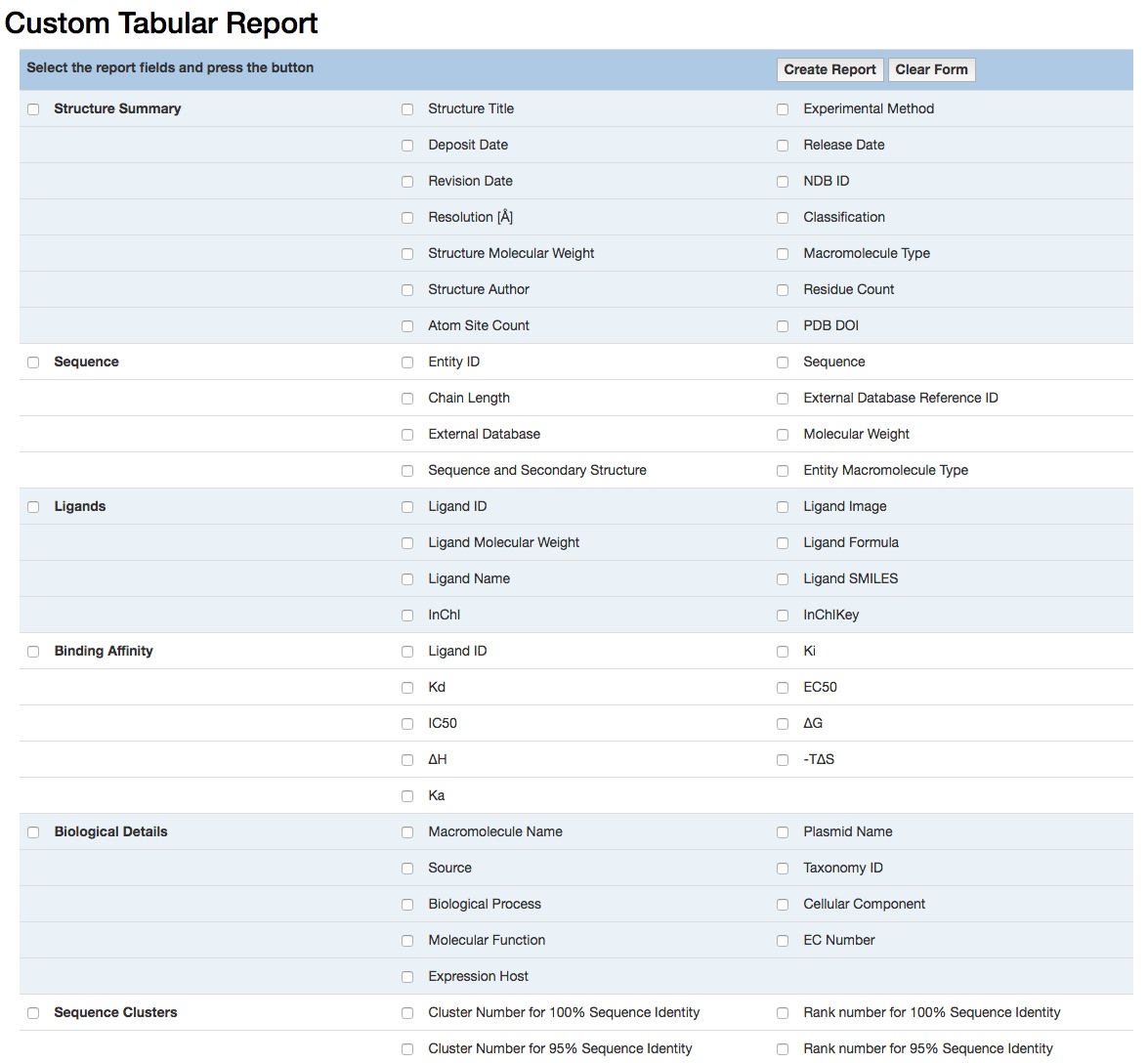 Some users may want to have a report containing data items from multiple standard reports or specially want to include Domain details, they can select "Tabular Report" from the drop down menu to link to Custom Tabular Report, and then select the interested items and generate a custom report.
Report Features
From the tabular report interface, users can easily browsing, sorting, filtering, searching, and exporting data.
Pagination and Bidirectional Sorting
By default, the first 20 records sorted by PDB ID are rendered. The user can page through the report using the navigation bar.
Table sorts can be done on the entire report by clicking the column headers. Two triangles are displayed in the current sorted column. The screen shot below is a Structure Summary report sorted by Resolution column.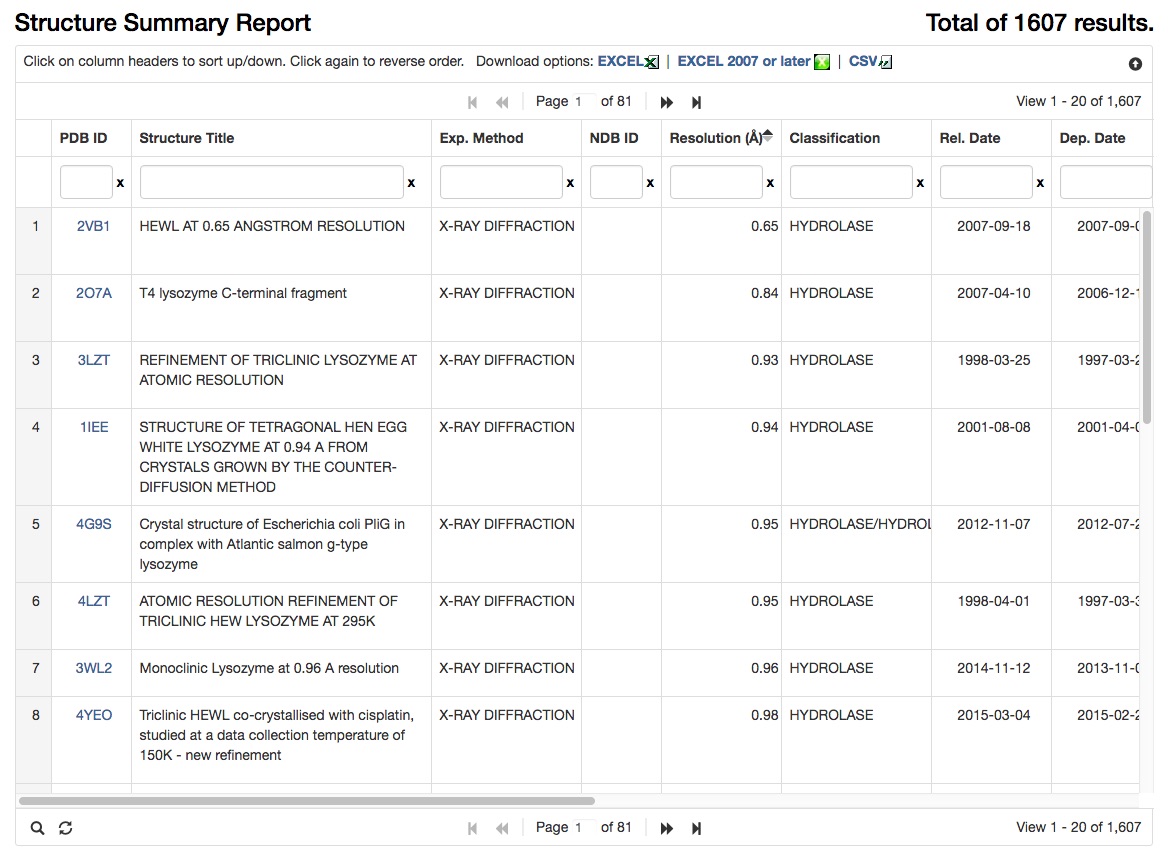 Other Tips
Hyperlinked data: Within the reports themselves, PDB IDs link to that entry's Structure Summary page, PubMed IDs link to the abstract, and Ligand IDs link to a Ligands Summary page. Other hyperlinkable columns are GO IDs (displayed based on three ontologies, molecular function, biological process, and cellular component) in Biological Details reports.
Column resizing: All column widths are resizable by dragging the line between two columns.
Report resizing: The report table is resizeable by dragging the triangle at the right bottom corner.
Sorting entity-based data: Sequence Report, Biological Details Report, and reports contain entity based data will always be sorted by the combination of the structure ID and chain IDs. Any entry with multiple chains will always be displayed with chain IDs sorted ascending.
Inline Filter: This feature provides an easy way for user to search data in the tabular report. User can input the criteria data in any text box, and the records matching the data will be retrieved automatically.
One-to-Many Relationships in Report Tables
Reports that have to display a lot of information for a single structure are formatted in a compact way. For example, a single structure may be associated with multiple GO IDs. The Excel and CSV export will keep the one-to-many presentation.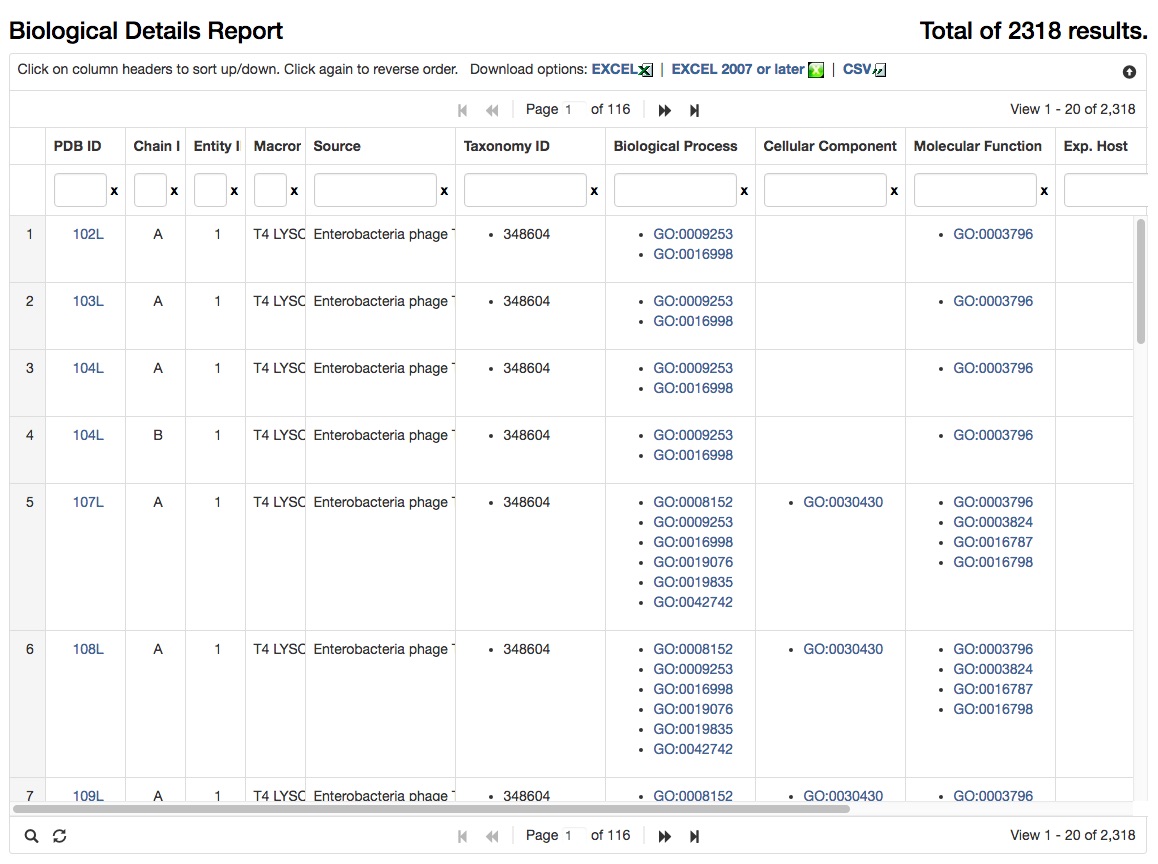 Exporting to CSV format
Tables can be exported in CSV format (

CSV: Comma Separated Value format ). The downloaded file can easily be uploaded to spreadsheet software.
Only the filtered result set will be exported if this option has been utilized.
Note: When CSV format files are opened, PDB IDs or ligands containing the letter "E" followed by a number (e.g. 2E3 or 1E19) are changed to scientific notation (e.g. 2.00E+03 or 1.00E+19). To prevent this, you may wish to open Excel, create a blank spreadsheet (rather than double clicking to open the file), go to the "Data" tab, select "From Text/CSV" and browse to the downloaded file, and select "Load".