What's New in this Release January, 2016
What's New
February 2016 release:
---
Visualization of Electron Density Maps around Ligands
Sigma-weighted 2m|Fo|-d|Fc| electron density "mini-maps" for ligands are available from the JSmol 3D View. This option is available for ligands with more than one atom (ions excluded) in PDB entries with structure factor data. Different sigma values can be selected.

Electron density mini-map for Retinoic Acid in PDB ID 1CBS at sigma level 1. In this example, the ligand fits well into the density.

Electron density mini-map for Thymidine-5'-Phosphate in PDB ID 3HW4 at sigma level 2. Electron density is only available for part of the ligand.
To access this feature, select the Electron Density (JSmol) button from the "Small Molecules > Ligands" table on a Structure Summary page.

Electron Density (JSmol) button from the Structure Summary page for PDB entry 1CBS.
---
Genetic Variation Track on Protein Feature View
A new Protein Feature View track displays regions in a protein sequence for which genetic variation information is available as annotated in UniProt.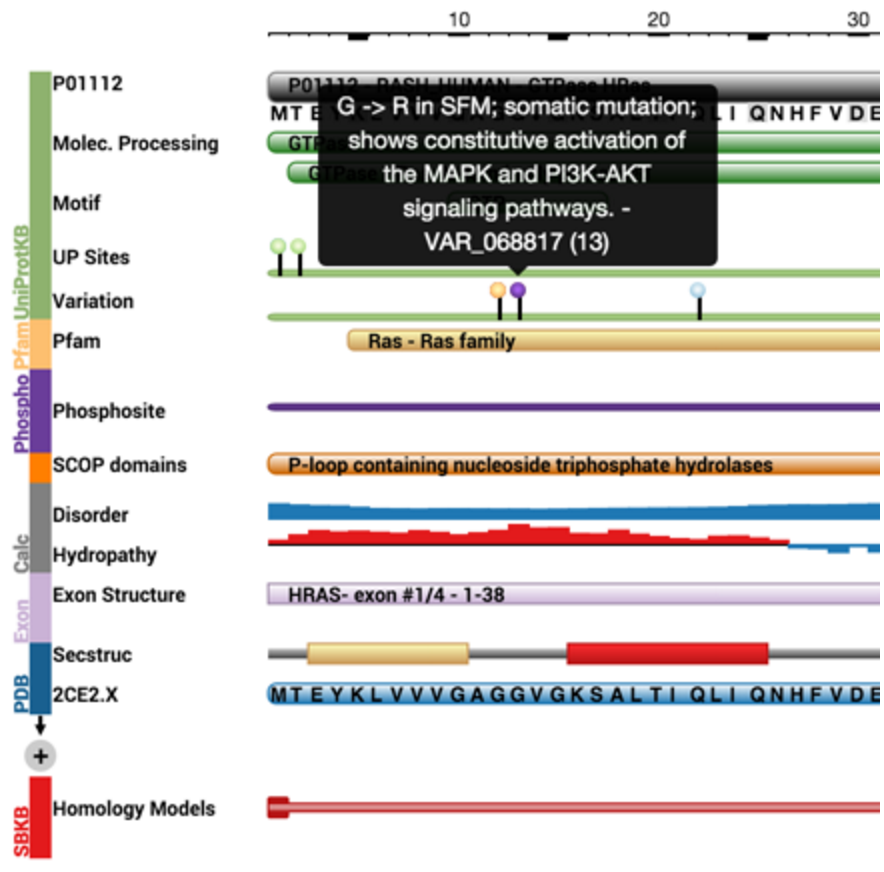 Mouseover text indicates Position 13 of GTPase HRas (P01112) has been associated with Schimmelpenning-Feuerstein-Mims syndrome (SFM).
---
Wild Type Search
A new Advanced Search option for Wild Type Protein selects protein sequences that do not contain mutations in comparison with the reference UniProt sequence.
Some PDB entries include expression tags that were was added during the experiment. Select "No" for the "Include Expression Tags" option to filter out sequences with expression tags.
PDB entries may also contain only a portion of the referenced UniProt sequence. The "Percent coverage of UniProt sequence" option defines how much of a UniProt sequence needs to be contained in the PDB entry.
---
Redesigned Search Results Page
The layout of Search Results has been extensively redesigned to simplify browsing and improve the usability on both desktop and mobile devices. The left column provides options to refine the search results, while the right column displays the structures matching the search.
New Page Organization
Structures: List of search results
Unreleased Structures: List of structures that are on hold for release (if present)
Citations: List of citations related to structures
Ligand: List of ligands contained in the structures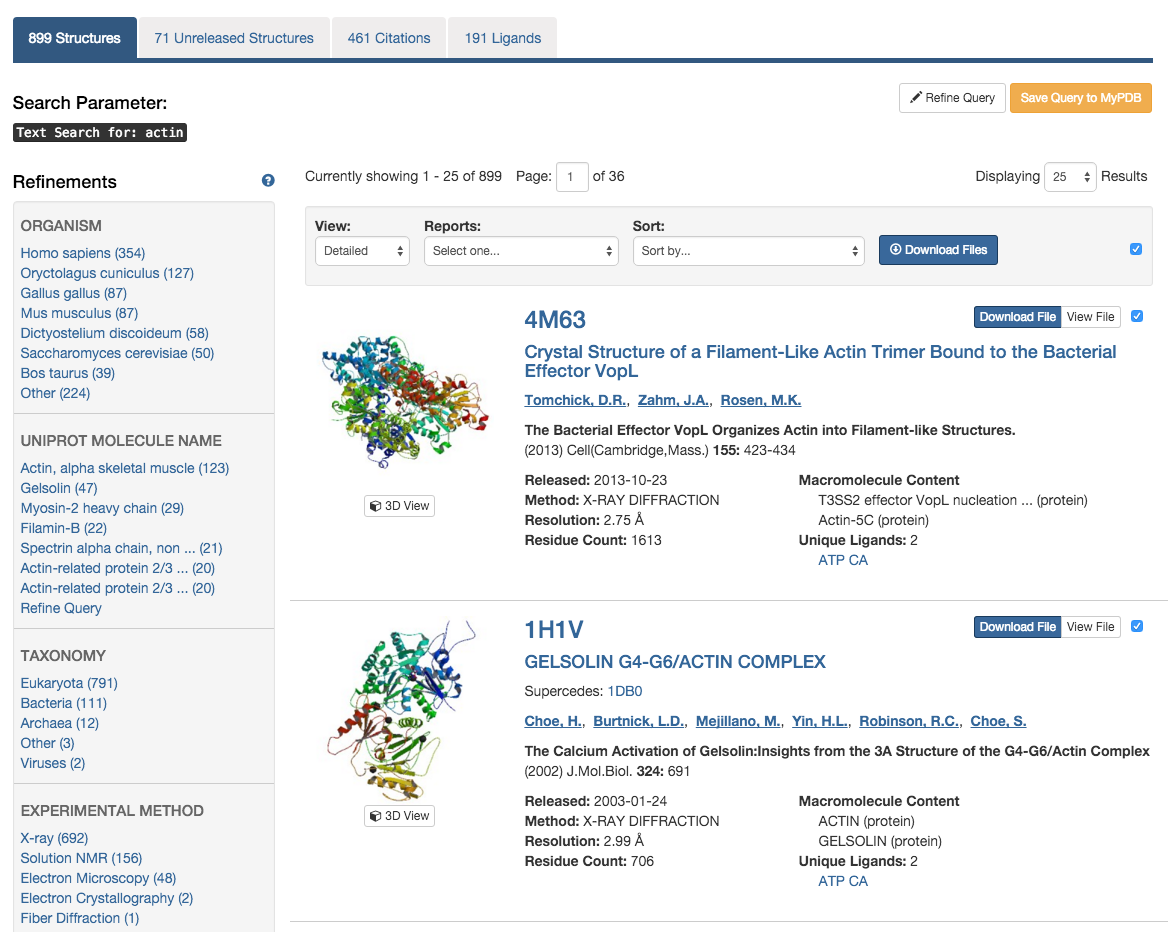 Try out our new search results page with a text search on "actin"
Features
Search related (top)
Search Parameters: Displays current search criteria
Refine Query: Option to change or extend current query using Advanced Search options
Save Query to MyPDB: save current query in MyPDB account
Search Refinement (left column)
Drill-down by different categories
Representative search results at different levels of sequence identity
Query details
Search results (right)
Use dropdown 'View' menu to display search results in Detailed, Condensed, and Gallery options
Use 'Reports' menu to create predefined and custom tabular reports of search results
Sort menu: sort search results by release date, PDB ID, residue count, and resolution