Structural Biology and Nobel Prizes
12/08
The Nobel Prize Ceremony will take place December 10 in Sweden, with many events and lectures streamed online.
The 2022 Nobel Prize in Chemistry will be awarded jointly to Carolyn R. Bertozzi, Morten Meldal and K. Barry Sharpless for the development of click chemistry and bioorthogonal chemistry.
PDB structures help us understand these discoveries. Visit PDB-101 to learn more about Click Chemistry.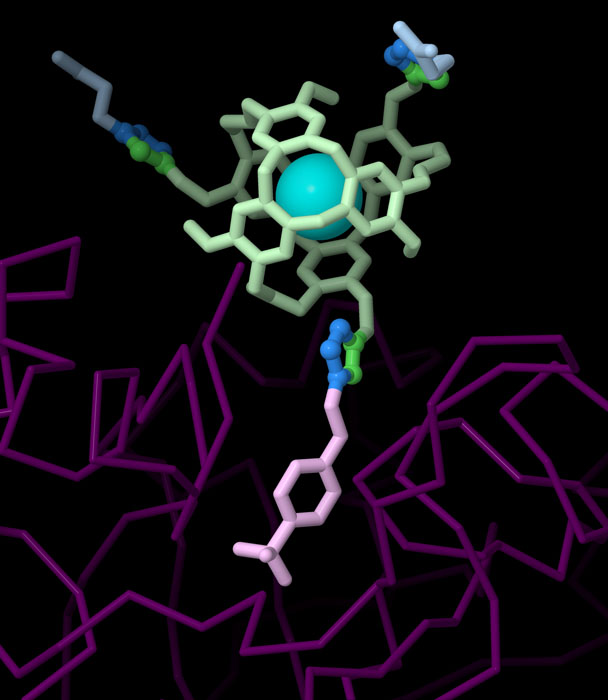 Click Chemistry
has become a central tool in the synthetic chemistry toolbox. It is widely used for combinatorial chemistry, where many modular components are connected in multiple configurations and all rapidly tested for potency. It is also being used in a targeted way, allowing researchers to make their molecular dreams a reality. The molecule shown here (PDB ID 3cyu) is designed to be a biosensor. The spherical cryptophane at the top, which has the alkyne half of the click reaction, traps a xenon atom that may be useful as a contrast agent for MRI. The azide portion shown at the bottom is a molecule that binds specifically to the target enzyme: carbonic anhydrase II.
Browse PDB-101 to explore articles and resources that highlight many of the PDB structures and related experimental techniques associated with Nobel Prizes, including a timeline of awards made in Chemistry, Physiology or Medicine, and Physics and corresponding Molecule of the Month articles.