Guide to Understanding PDB Data: Carbohydrates
06/15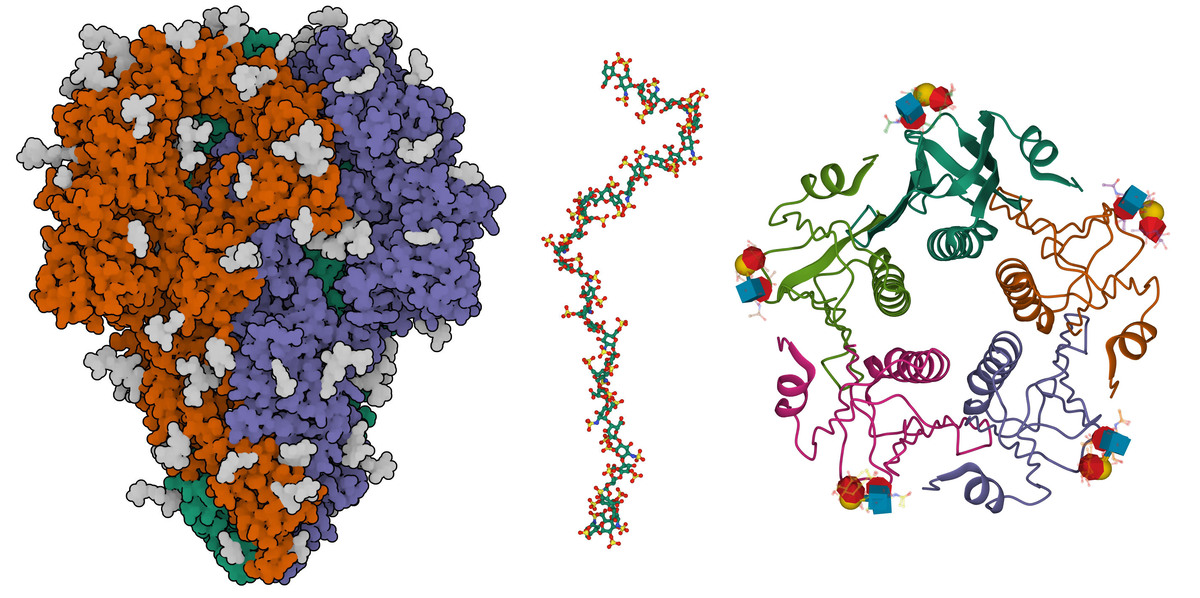 Figure 2. Examples of carbohydrates in the PDB: the coronavirus spike protein (left; 7kip) with many sites of glycosylation in gray; a fragment of heparin (center; 3irl), shown with a ball-and-stick representation; and cholera toxin bound to a small fragment of O-type blood glycans (right, 5elb), with the glycans shown using SNFG representation.
More on carbohydrates at PDB-101.
The constantly-growing PDB is a reflection of the research that is happening in laboratories across the world. This can make it both exciting and challenging to use the database in research and education.
PDB-101's Guide to Understanding PDB Data was created to help users navigate through the contents of the archive without having a detailed background in structural biology.
Topics cover biological assemblies, molecular graphics programs, R-value and R-free, and more.
A new chapter has been added to help users examine the carbohydrates are represented in the PDB archive. Topics in this article include:
General Overview
Importance of Carbohydrates in Biology
Representing Carbohydrates
How Carbohydrates are Specified in PDB Entries
Finding carbohydrates in the archive
The "Oligosaccharides" Section of the Structure Summary Page
Viewing Carbohydrates in Mol*